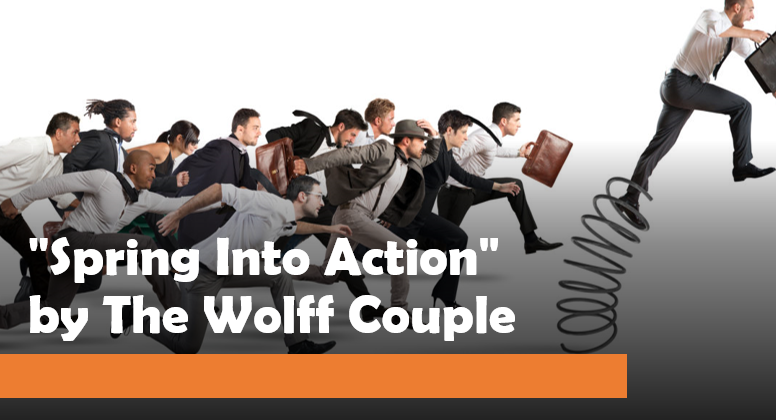 It's the season when flowers are blooming again, the sun is shining, and the Real Estate Market is coming alive! This is the time of year to "Spring into ACTION!"
It's the perfect time for our special guide, The Wolff Couple's 7 D's to Taking ACTION!
This provides a powerful framework for how to seize the initiative on a daily basis, and how to get great results. These Dynamic 7 D's provide a proven Path to Success in any endeavor, especially your Real Estate Investing Business! So where does it all start?
1. Drive
What really gets you going? What gets you out of bed every morning? What could get you out of bed even earlier with even more SPRING in your step? What could you focus on that would give you more DRIVE to spur you on to greater achievements?
Napolean Hill, author of "Think and Grow Rich", calls this first of his six Action Steps, "Desire". He recommends you focus on your Motivating Factors until you work yourself into a white hot state of Desire. This energizing emotion can help you burn through any obstacle.
Write out your TOP 3 "Why's" BELOW, what motivates you. WhatDriving Factors can you emotionally call upon when facing challenging obstacles? Who or what can give you that extra push to truly commit, and the energy to bravely face and eventually conquer any obstacle?
---
My Top 3 DRIVING Factors
1.____________________ 2.____________________ 3.____________________
---
One powerful and proven way to build your Drive and Desire is to Use Visualization. Close your eyes, take a couple deep breaths, and vividly imagine yourself achieving your Goals. Really experience the Success you Desire — see it, smell it, taste it, and especially FEEL IT!
Put a big smile on your face, and feel the joy and satisfaction that comes with reaching that Success. The more you intensely Visualize, the more you increase your DRIVE, and the closer you bring the ultimate realization of your dreams!
2. Direction
If you don't know where you're going, then your DRIVE won't take you to the right place! Your Goals set your Direction, so it's vital to be as clear on them as possible. We all have our own Life Goals, Health Goals, Relationship Goals, Spiritual Goals, Goals in many areas. So what Goals should you aim for in your Real Estate Investing Career?
We structure our student's Goal-Setting within a Range, a Minimum and an Optimum. Depending on your level of commitment, you should probably aim for a Minimum Goal of 1 Deal per Month. This would not be a Rehab Deal, those take longer and are a lot more involved and expensive.
We're talking about our favorite Type of Deal here, a Pretty House Deal! These are usually "Nothing Down, No Credit" Deals. They often take less than 2 weeks to turn into a payday. You buy the house one weekend, run title and do a little fixing (if necessary), post it on Zillow and elsewhere, and 2 weekends later sell it through a "1-Hour Open House" to get a big check!
This Pretty House Model can easily produce a Minimum of 1 Deal per Month, and when you get it systematized you could target as many as 3 Deals per Month (or more)! With even just 1 per month your riches will grow quickly.
Owning Pretty Houses long-term ("Set it and Forget it!") is the best path to wealth-building that Ron LeGrand ever taught us. It's why students line up to see Ron, because he teaches the Pretty House (Creative Financing/Terms) Business like no other Guru on earth. That's why they call it "Planet Ron", he's got this lucrative world all to himself!
If you really examine the numbers, you could do 2-3 Pretty House Deals PER YEAR and still grow wealthy in the next decade or two. That's just the nature of the business, and the inevitable rewards of the "12 Lease Purchase Exit Strategy Paydays!" (Watch for an upcoming article from us on that!)
3. Daily Guide
Once you have the Drive, and your Direction is set, you need a Vehicle to get you there! Our Vehicle is obviously Real Estate Investing, especially the Pretty House Business. What you really need is a step-by-step Operating Manual for that Vehicle, and that is your Daily Guide!
What needs to be in this Operating Manual? The 2 Keys to your Daily Success as an Investor are Scripts & Systems! You need the Words to say to everyone you talk to, and you need the Action Steps to take minute by minute. You need a detailed Plan for the approximately 7-10 hours per week that this will require.
Staying on the right path each step of the way, is exactly where our Wolff/LeGrand Systems come into play. Our "What to Say & What to Do" System is carefully detailed, so precise with Checklists and the exact Scripts to use with every Seller and Buyer. This System we created with Ron LeGrand covers ALL 8 TYPES of Deals: Pretty Houses, Wholesales, Work-for-Equities, Rehabs, Short Sales, Options, ACTS, and Lease Purchases. This is hands-down the most detailed Operating Manual for Real Estate Investing ever assembled.
The "What to Do" System IS your Daily Guide, it even contains a "30K in 30 Days Plan". Ron LeGrand believes in this System so much he makes sure all his elite "Masters" Students get it for FREE (on HIM)! Simply follow this System to achieve success doing Real Estate Investing ours and Ron's way, especially if you want to focus on Pretty Houses.
4. Differentiation
What makes you different? What makes you special? What do you have to offer that your competition doesn't? These are questions that every business person needs to be thinking about these days, especially in our fast-changing world. So here's your…
---
Five Difference-Makers
Your Offer — You aren't a real estate agent, you aren't a typical lowballing investor. Your messaging and what you can do for Sellers is different, you can pay top price with no hassles when they can be a little flexible.
Your Personality – You take the time to Build Rapport, so Prospects remember your name and your story. You tell folks your brief "Real Estate Investor Biography", that way they instantly like and trust you more.
Your Words – You follow the best Scripts in our Systems, the best ways to explain what we do, and why Sellers and Buyers should work with you.
Your Speed – Your Conversion Ratio improves the quicker you can get from the Opening Call through the Closing Call to the Deal Meeting (at house).
Your Follow-Up – Many Investors talk to a Seller once, then never again. Ron always says, "Time and circumstance will change all Seller's minds." Until the house is Sold or you get a hard "No", stay in the game with calls.
---
5. Development
Another reality of today's business world is that you must always be striving to get better. The moment you stop moving forward, you are falling behind. Today's small businesses are like sharks, they need constant fresh oxygen, if they're not moving forward they will die.
There are 2 areas to be continually improving, your Business Systems and your own individual Skill Sets. Start by simply copying the Systems straight out of our Training Materials. Then the best way to Develop your Skill Sets is by practicing Role-Playing with the Scripts & VIDEOS. The 3 Main Skill Sets you want to Develop quickly are: 1) Communication Skills 2) Confidence 3) Coachability.
Your Goal is to continually be learning. When you see a need and an opportunity for an upgrade in your Training, take advantage of it. If you need more money-making information on Marketing, Closing Calls, "1-Hour Sales", or working with an "Acquisitionist", we have advanced Training available through Global Publishing in all those areas.
Our best advice is to always keep learning, and always be trying new things. That Trial & Error Process is what keeps small businesses thriving.
6. Determination
All the Drive, Direction, Daily Guidance, Differentiation, and Development won't amount to much without this last vital component — Determination! Every victory of major worth has been won through Determination in the face of many obstacles. The brave Investor expects this, and understands that nobody makes millions without some grit! So resolve to stick to it, no matter what!
Everyone faces obstacles of many types every day, and like it or not, we are measured in some part by how we respond. Do we shrink from challenges? Or do we face them courageously and resourcefully, with unwavering "Expectations of Success", and the glint of Determination in our eyes?
To increase your Determination, maintain your intense focus on what drives you. Keep your heartfelt Desires close in mind, and Commit to taking whatever Action Steps you must to see your Goals achieved.
---
4 Tips to Stay Determined
Maintain Focus on What Drives You – Use Visualization, Eyes on the Prize.
Face Obstacles Bravely – Your Only Opportunity to Show Courage.
Keep a Persistent, "Never-Say-Die" Attitude – to Conquer Every Obstacle.
Make a Strong Commitment to Do "Whatever It Takes!" There's an inspiring song by that name by "Imagine Dragons" (you can get it on your phone).
With that resolved Determination, combined with all the other Dynamic D's, you will certainly reach the pinnacle of the 7th D, your True…
---
7. Destiny!
Be the Best You, the True You, the "You" you were always Destined to Be! Simply follow these special 7 D's to Taking ACTION! Always remember Brian's motto, "Expect Success!" And now you'll never forget Lynette's motto, "Take ACTION!"
This is Brian & Lynette, TheWolffCouple, looking forward to seeing or hearing about you Taking ACTION soon!