The Roadmap has 6 stages and it looks like this: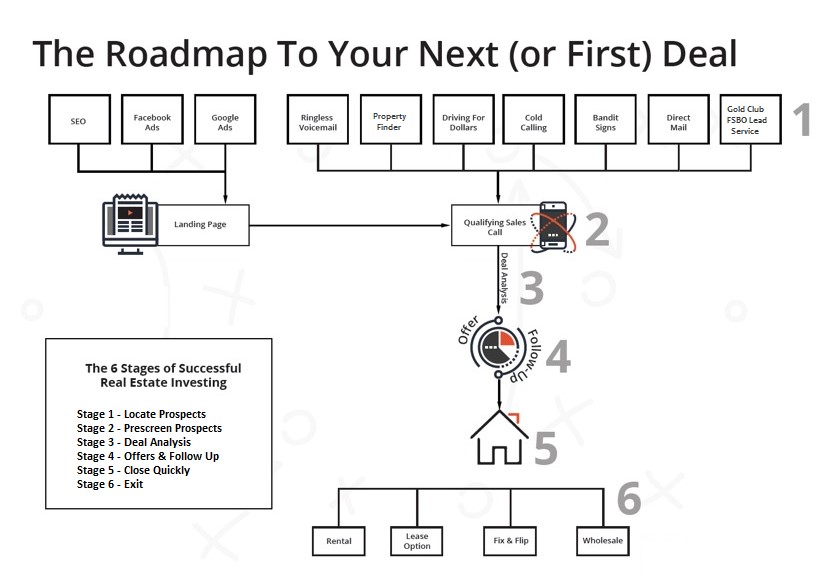 The first step in the Roadmap process is Locating Prospects or, lead generation and it is, without a doubt, the most critical of the six steps.
After all, if you can't get motivated seller leads — the rest doesn't matter. You're just rearranging the deck chairs on the Titanic as they say.
There are 10 ways to get your phone ringing with motivated seller leads as you can see in the Roadmap:

This resource is dedicated to teaching all 10 methods of lead generation as a real estate investor.
Lead Generation Method 2 – Facebook Ads
Description: Facebook Ads are a great way to get in front of a motivated seller… if done properly.
You may have heard that "you just can't find motivated sellers on Facebook".
I'm here to tell you that's not true.
Facebook has over 214 Million daily active users according to statista.com. Included in that 214 Million people are individuals who are behind on payments, or may have recently inherited a house.
But you must realize, people do not go to Facebook to find answers to their questions, or to solve problems. They are there to browse their news feed, see what their friends and family are up to, or to stumble across some news or an interesting article.
The mistake many investors make when running Facebook Ads is that they go directly for the ask. They run ads that read "We Buy Houses", or "Sell Your House Fast".
There is no consideration for the wants, needs, or emotions of their audience.
The beauty of Facebook is that you are in control of who sees your ads.
Did you know that you can upload a list of email addresses, and phone numbers, and run a very targeted ad to that list?
Just like we talked about with direct mail, what you say to your audience matters, and specificity sells! The more targeted you can be with your messaging, the better results you will get.


What you'll need:

List (Optional) – 

Similar to direct mail and cold calling, you can find these lists through popular list companies, your local courthouse, and a number of other sources. You can then upload that list to Facebook and create a custom audience.

Facebook Ad Copy:

Craft a compelling message that speaks directly to the needs of your target audience. Do not make the mistake of making a broad offer like "We Buy Houses for Cash."

Facebook Ad Image (or Video):

A good rule of thumb is to use images or videos that show you prospects in their desired "after state". In other words, show a smiling person/couple who recently sold a house.

Landing Page:

Like SEO you'll create a page on your website that provides a solution to the prospect's problem. If your ad is speaking to someone who recently inherited a house they need to sell, your landing page should have a very similar message and then give them a way to contact you if they would like you to help them resolve their problem.

Trackable Phone Number:

You need a phone system that you can clearly track how many calls you made, how many people answered, and the result of the call. Bonus points if you follow up via automated text message and ringless voicemail.

Lead Sheet:

Once you get a prospect on the phone, enter their property into your lead sheet. That property will then be sent directly into your Property Pipeline, and a new contact will be generated in your CRM.
Use this lead generation method if you…
Need high volume – If you need something that can scale up and generate a lot of motivated sellers.
Have some dinero – Direct mail can get pricey but you can control that by being selective when you buy your list.
Need leads NOW – This method can produce seller leads quickly.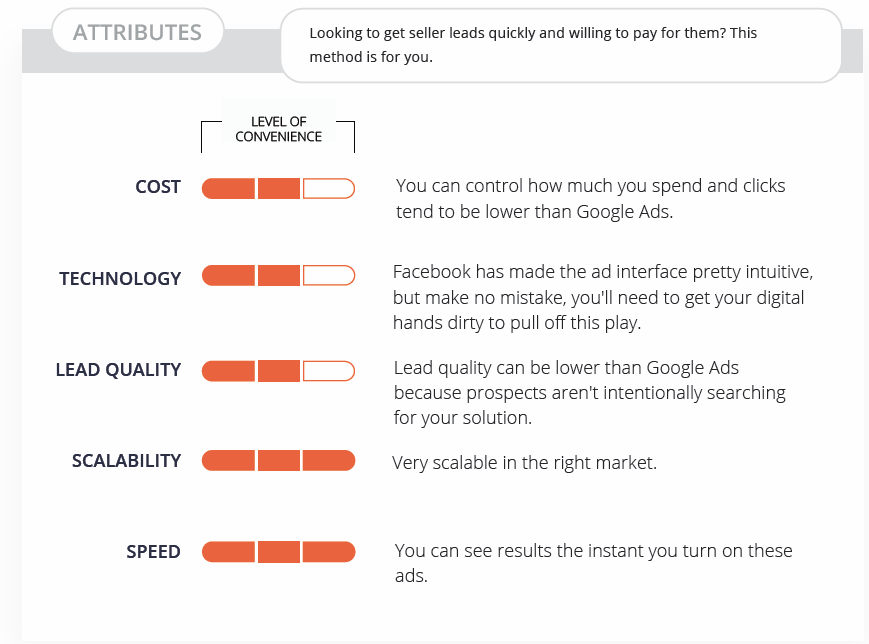 Facebook Advertising Process:
Step 1 Target Audience
There are several pages on your website that you could use to craft your message that will also help you determine which target audience you wish to address.  Under SELL in your authority site, you could choose any of these pages.  In this example, we are going to choose to Get A FAST CASH OFFER. But you could also choose to build a separate landing page. There are several pre-written options to choose from.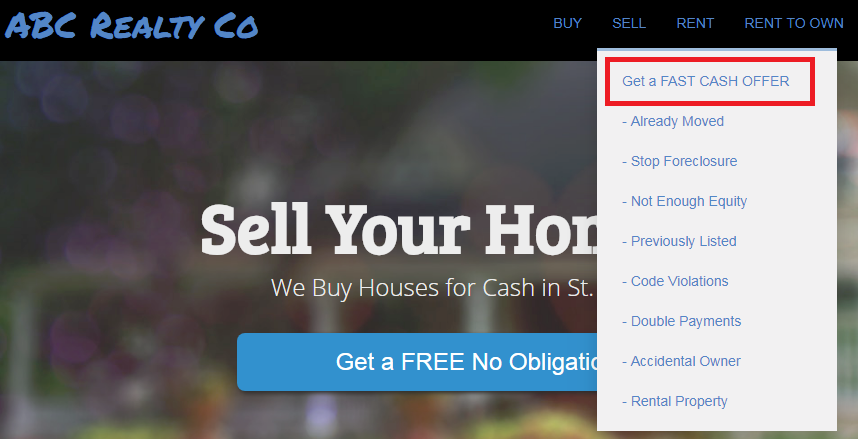 Step 2 FB Ad Copy
Next, you will want to work on creating an ad that speaks directly to your target audience and compels them to dig deeper to learn more on how you can solve their problem.
Below is one example of using bullet points and a compelling picture that speaks directly to a distressed seller.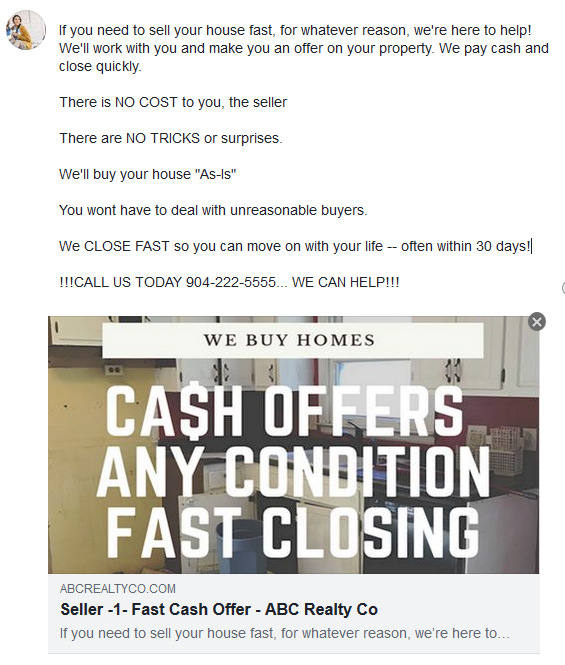 You will need a trackable phone number, and we encourage you to create a follow up with an automated workflow using your profit dial system.
Now that you have your ad copy you will need to be able to create your post.
Copy a portion of the ad copy from your website page: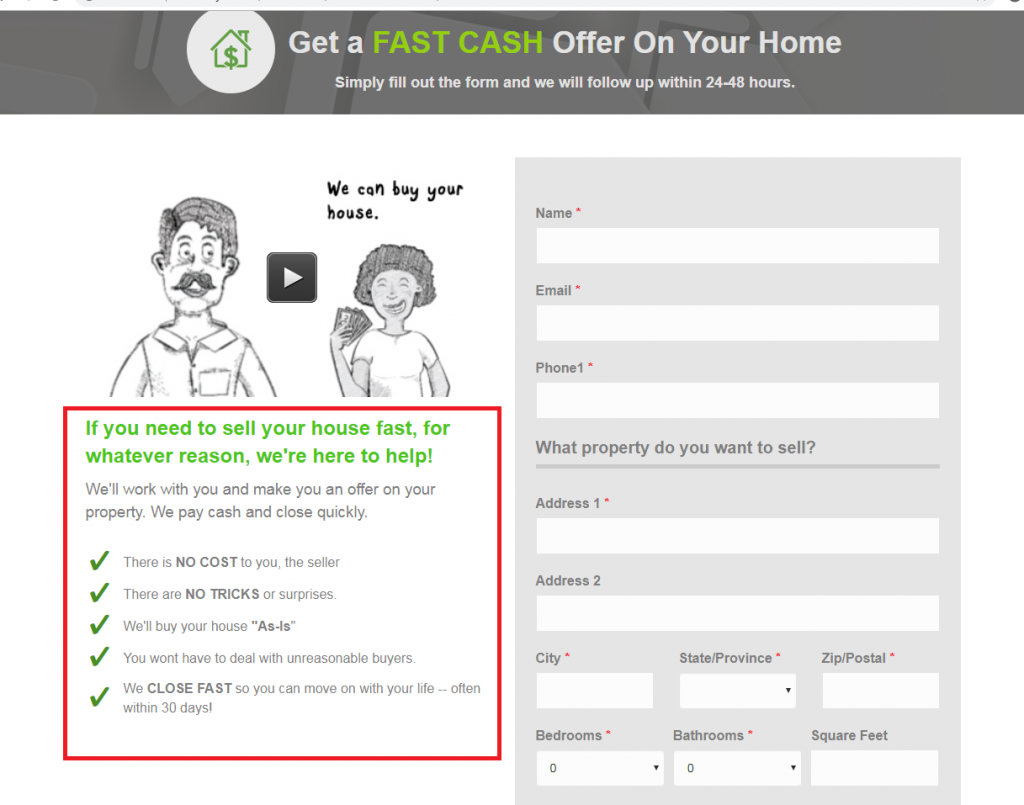 And paste it into your Facebook feed under create a new post: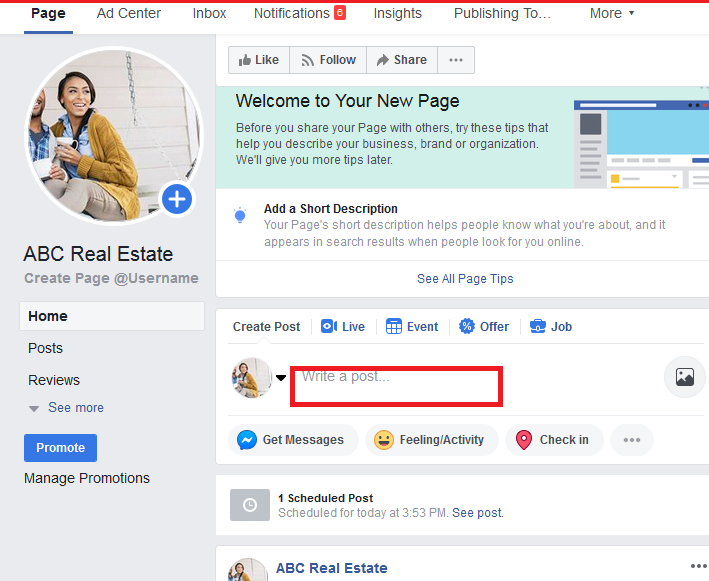 Add your phone number and click to add a photo.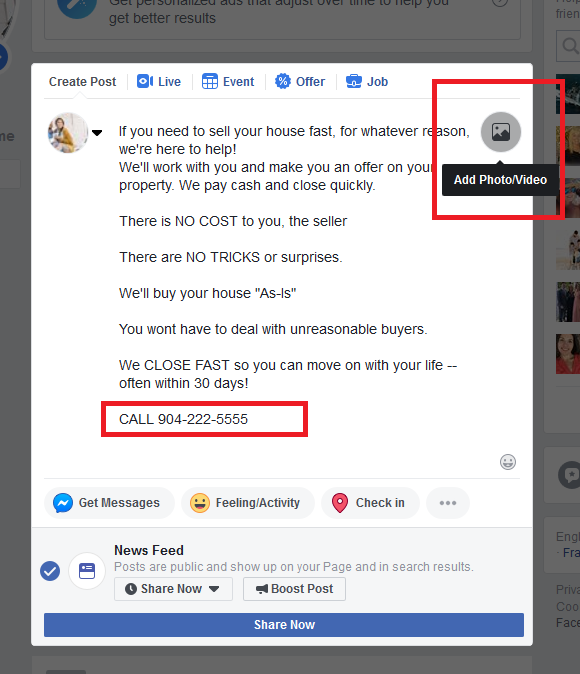 Select create photo carousel and add a link.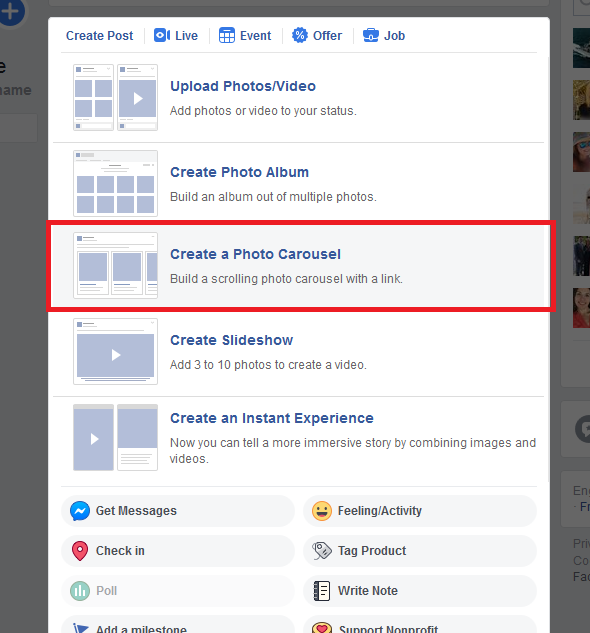 Enter the URL from your website or landing page.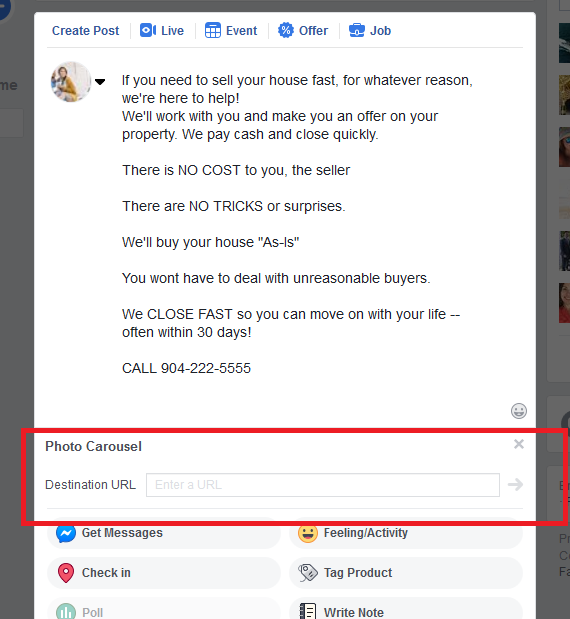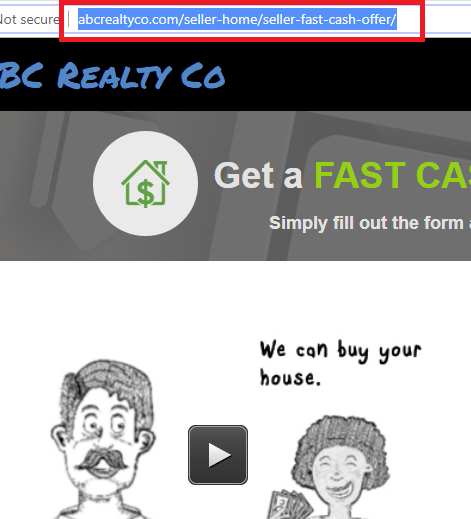 Add your pictures and select CREATE POST
Step 3 Boost your post
A boosted post is a post from your Page that, for a fee, can appear higher up on your audience's News Feeds.
The fee depends on how many people you want the post to reach—the payment depends on the number of impressions the post gets with time.
Step 1: Get Started
Go to the post you want to promote; this can be a new post or an existing one on your Page's Timeline.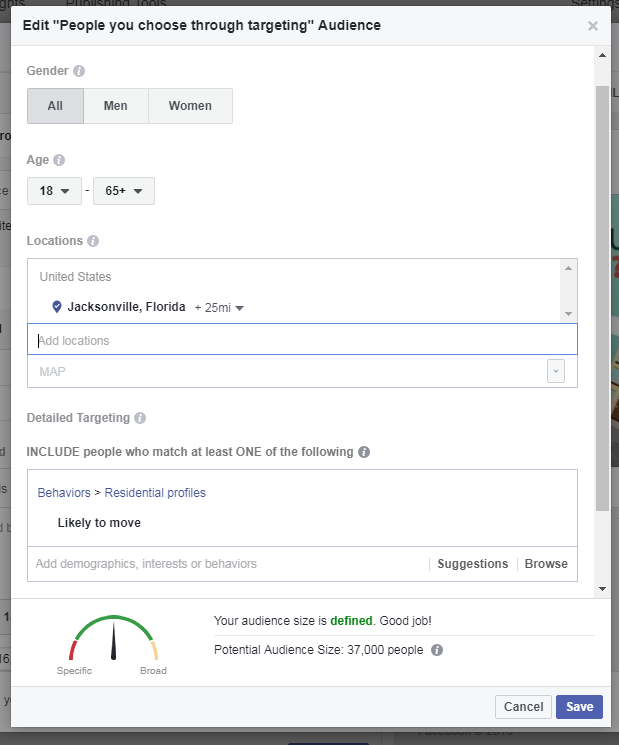 Click Boost Post in the bottom right-hand corner.
The ad will be automatically created from your post.
Step 2: Choose your audience
Next, decide who you'd like to see your post.
If you select People you chose through targeting, you'll be able to specify the people you show your boosted post to. Then, refine their locations, ages, genders, and interests.
If you select People who like your Page and their friends, your boosted post will only be visible to those people. Note: this option is available if at least 50 people like your Page.
Step 3: Choose your budget
Set your maximum budget. You can spend as much or as little as you want. Boosted posts require a minimum budget of $1 a day. They'll give you an estimate on the number of people you're going to reach depending on the amount you set.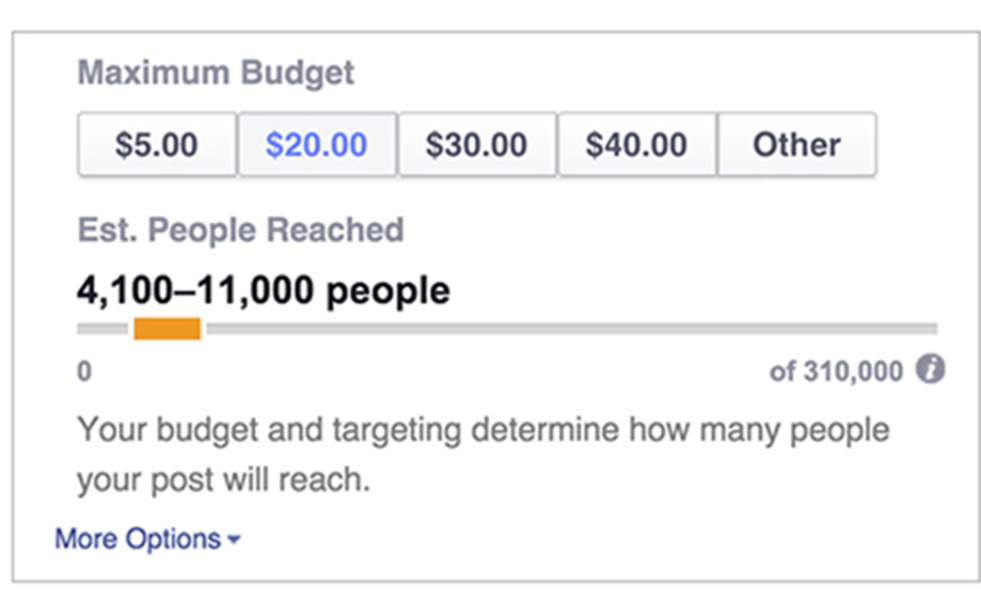 Choose your duration. Your post is automatically boosted for one day, but you can select up to 7 days.
Click Boost.
Once you get a prospect on the phone from your ad, enter their property into your lead sheet. That property will then be sent directly into your Property Pipeline, and a new contact will be generated in your CRM. If they go directly to your website, the webform will create that contact for you but you should still follow up with a phone call.